Sustainability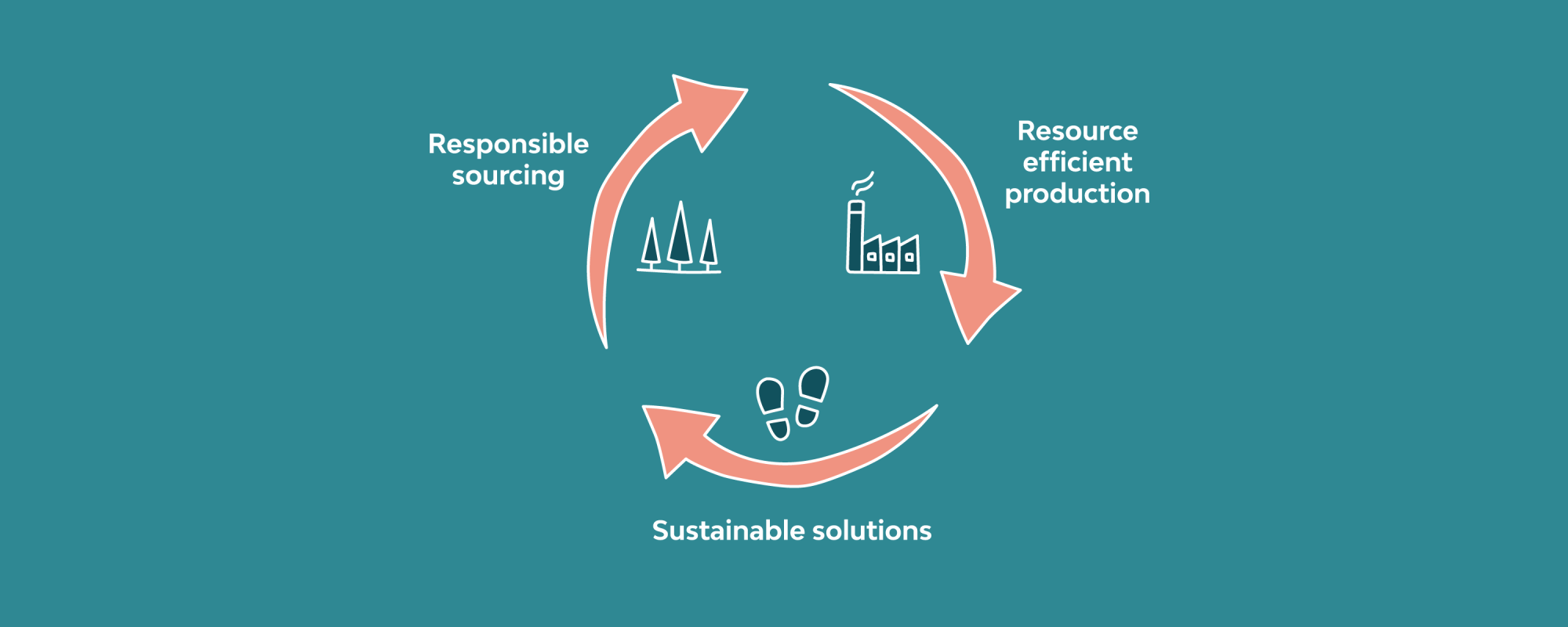 Our approach to sustainability

Sustainability isn't just a buzzword – it's the key to the survival of our planet. Global warming is one of the most serious problems in the world today, and Essity, the company that produces Libresse®'s pads, liners and intimate wash and wipes, is committed to finding social and environmentally sound solutions and to producing safe products.
At Libresse®, we're proud to be manufacturing and developing our products in a sustainable way. As a company, we've always been conscious of protecting our planet and its resources. In fact, we've been working with Life Cycle Assessment (LCA) since the early 1990s to assess the potential environmental impact of our products through their entire life cycle. From what we source to how we produce and to what we deliver to our consumers.
The provenance of our products
Responsible sourcing really matters to us and we're always looking at ways to reduce the environmental impact in new products, through smart design and materials. For example, our pulp suppliers use wood fibre that comes from carefully managed sources. Showing consideration for nature has always been of the utmost importance to us, and an objective we continue to ambitiously pursue.
Carbon footprint has been reduced by a 20% on Libresse®Slim Pads
We've reduced the packaging from between 1 to 14 per cent on all of our feminine hygiene products since 2008
Cutting down on waste is a big priority for us too. One way to reduce waste is to make the products thinner. Another way is to reduce packaging. We've reduced the packaging from between 1 to 14 per cent on all of our feminine hygiene products since 2008.
With our Libresse® Ultra Thin Pads, for example, we've cut down on packaging, and are using materials and energy more efficiently to make the pads thinner. This makes them more comfortable and practical for you.
Feminine products have come in for some criticism in the past over the challenges of disposing of them in a way that doesn't have a harmful impact on the environment.
Reducing our carbon footprint
As part of LCA's assessment, we've also looked at our impact on global warming, or put another way, the carbon footprint of our products. Carbon footprint refers to the emissions of greenhouse gases into the air through a product's life cycle. We've been working hard to reduce the carbon footprint of our absorbent products. Since 2008 for instance, we've reduced the carbon footprint of our  Libresse® Slim Pads by 20 per cent and our Libresse® Slim Liners by 10 per cent.
We're proud of lots of other things we're doing too. We care about the planet and the people that live on it, and below are just a few of the ways we're making a difference.
The taboos, ignorance and preconceptions surrounding menstruation are jeopardising the health of millions of women every day. We're active in combating this. For example, we recently in our 'Period is Period' campaign asked parents to stop using period euphemisms while 'Let's Get Real' campaign spoke out frankly to tackle period advertising conventions, triggering the question of what's "normal" during your period.
Libresse®'s 'Love Your Changes' educational program involves teaching girls in primary schools in Malaysia about menstruation and the changes that happen in the body during puberty. Each girl receives a starter kit from Libresse®, which includes a brochure to help parents speak with their daughters about their bodies and menstruation.